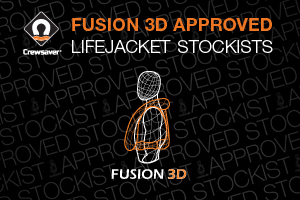 Welcome to Buccaneer-Ltd.co.uk
Telephone us on 01261 835199 and now on Facebook at facebook.com/buccaneermarine
NEWS:-
Leisure -
Following the success of the recently launched Crewsaver Fusion 3D lifejacket range, Buccaneer is delighted to announce our appointment to the Crewsaver Fusion 3D lifejacket stockist programme. The Crewsaver Fusion 3D stockists scheme ensures that consumers are being given the best advice when choosing their lifejacket providing them with a better understanding on how it works, which could ultimately save their life. As a stockist we have on display the entire range of Fusion 3D lifejackets, providing a solution for consumers at every level from recreational boating to extreme ocean racing.
Preparing for the new season ahead we have a range of small tenders from Zodiac and Waveline, an extensive selection of Kayaks and a huge range of new 2015 model Mercury Outboards all in stock for immediate delivery, also now supplying larger vessels from the Quicksilver range we are as always expanding our range of services - come and have a look in the Macduff showroom.
Commercial -
In the Underwater camera field, there are new over copper HD camera systems from Outland Technolgy, thus avoiding the problems associated with fibre optic umbilicals, also customer interest remains high in the new Outland 2000 ROV system, Continuing on the ROV front we are supplying more and more of the highly capable and succesfull PRO 4 ROV system from world leading supplier VideoRay, and have further enhanced our service centre over the winter period. - Having had highly succesful showings at Ocean Business during April, we look forward to expanding the customer satisfaction with these highly capable systems please call for further information and any assistance we can offer.
We continue to increase stock in our over 5000Sq ft. chandlery shop space, in preperation for the coming season, with leading product from all the high quality manufacturers, Unlike others we probably have the item you may require in stock but if we don't have it we will get it for you quickly and with minimum hassle and often better than "internet" pricing. This year is particularly exciting on the marine electronics front with very exciting new lines from both Raymarine with the Dragonfly range and Garmin new innovative designs which offer unprecedented functionality in both radar and fishfinding. Well worth coming in to look at if your considering an upgrade this year
To select chandlery items please look at some of our main distribution catalogues:
Crewsaver

Bainbridge Marine

Marathon Leisure

Aquafax
If there is something you can't see or have a query with please do not hesitate to give us a call and we will make every effort to help out
As specialist marine electronics suppliers we can offer you unbiased opinions and advice on the leading products in the marine industry
UK Suppliers and factory authorised service/repair of the class leading Micro and mini ROV ranges from VideoRay, Outland and SeaMor
In the leisure sector we are a fully authorised service centre for Mercury, Raymarine and Garmin and many off the other leading manufacturers - if you have a service problem ask us, we are happy to give you an opinon if your item is repairable - and remember no fix no fee!
Large yard and indoor workspace to accomodate small vessel repairs
We continue to expand our services offered to customers, with our training center already covering ROV and survey training, with Safe Waterside Working and various industrial courses running over the summer months.
Please note: This site is by no means a full representation of the services we supply, we hope to have a full site update as soon as time allows, please forgive any inconvienience in the meantime and give us a call.
Thanks for visiting.
Please email us at info@buccaneer-ltd.co.uk for further information.